Dr. William Luffman was born and raised in Clarksville, Tennessee. He became a born-again Christian in 1977 at Abundant Life Pentecostal Church of God where he served in various ministries such as evangelism and teen Sunday School teacher.
In 1989, he and his wife, Ginger established Faith Outreach Church of Clarksville, Tennessee. Since that time Pastor William has watched his congregation grow from 8 adults to over 2,000 active, engaged members.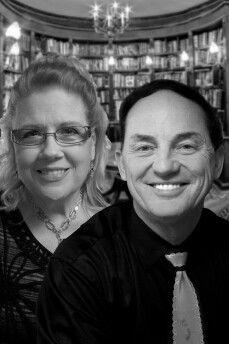 In 2009, Pastor William established William Luffman Ministries. He has published numerous books including two devotionals, a marriage manual, a book of quotes as well as books on various individual topics. Pastor William has become a well respected speaker and has ministered across the United States as well as in Sound Korea, Venezuela and Israel.
He has attended numerous conferences and studies the teachings of various Word of Faith Ministers such as Kenneth Copeland, Jerry Saville and Hilton Sutton. He is ordained through the Righteous Preachers Network, lead by Dr. Mark T. Barclay, who is also his personal pastor. He has received a doctorate in Theology from Christian Bible College and a doctorate in Divinity from Magister University.
Dr. Virginia Luffman was born in Clarksville, Tennessee, but spent some of her childhood in Detroit, Michigan. She was immediately nicknamed Ginger, and still prefers that name today.
She felt the calling to ministry on her life when she was 15 years old, but did not fully step into her calling until 1995.
Pastor Ginger is ordained through Righteous Preachers Network of Midland, Michigan and Faith Covenant Ministries of Sicklerville, New Jersey. She as been National recognized as one of the nations' top church administrators. She has an entered Masters Degree and an honorary doctorate from Magister University.
Pastors William Ginger married in 1982. They have four Children: Jacob, Rebecca, Rachel, and William, who is in Heaven. They have seven grandchildren: Damon, Kayla, Tracie, Jarrett, Madyson, Ayden and Janel as well as 2 great-grandchildren: Ramsey and Addy.